My Equipment.
To ensure the highest possible quality, the studio is equipped with PrismSound convertors and Neve 1073 mic preamps.
Mics: AKG 451, 414, Neumann U87, KM184, Rode NT2, Royer R121 and Shure SM57, SM58.
Guitar Amps: Cornford Hurricane, Cornell Plexi, Cornell Voyager, Fractal Audio AxFx, Fender Hot Rod Deluxe, JMI AC15, Marshall 1959HW hand-wired head, Marshall DSL head.
Extension cabinets loaded with: Celestion Alnico Blue, Greenback, Creamback, Gold, Vintage 30, Jensen speakers
Taylor Acoustics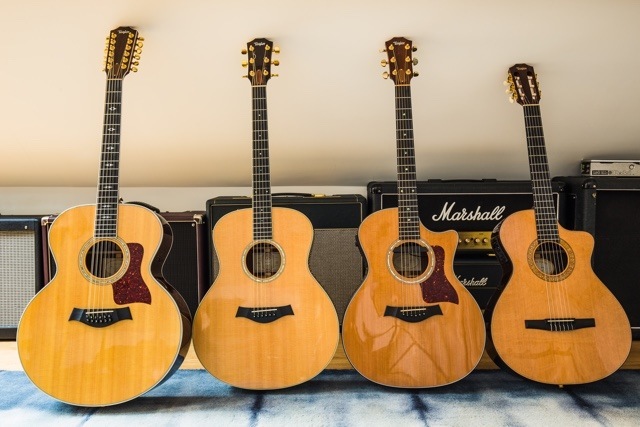 Taylor acoustics are known for their balanced tone and accurate intonation, making them excellent for recording. These four cover most situations and always get complimented by engineers and producers. The 855 is the sweetest sounding and most in-tune 12-string I've ever played. The Grand Symphony is a robust sounding 6 string acoustic, ideally suited to strong strumming. The highly versatile 714 Grand Auditorium has a cedar top giving it a sweeter, more subtle tone, ideal for finger picking and single note lines. Finally, the NS72CE nylon string.

855 12 string impersonating a Russian dulcimer.

0:59s More 12 string on "I Have A Dream" Carl Davis with the Philharmonia Orchestra recorded at Abbey Road.

1:30s GS raw strumming track.

1:57s 714 double tracked

2:24s 714 on "Dare" from my album "Raw".

3:06s Nylon string on a track for Robert Hartshorne at ECG
Handmade English Acoustics
The Manson Kingfisher features a wide, flat, 12 fret fingerboard like a classical guitar, ideal for solo pieces where a little more space is required for the left hand. The mahogany back and sides deliver a warm, sweet tone. The Brook Creedy sounds bright but surprisingly loud and full for a parlour size instrument. The Fylde Olivier is over 35 years old; loose, rich and warm.

Manson Kingfisher playing my tune "Raw"

1:16s Brook Creedy playing my tune "Shifting Sand"

2:37s Fylde Falstaff playing "Blackbird" on Carl Davis' Orchestral Beatles album recorded at Abbey Road with the Liverpool Philharmonic Orchestra
Gibson 1935 L5 Archtop Reissue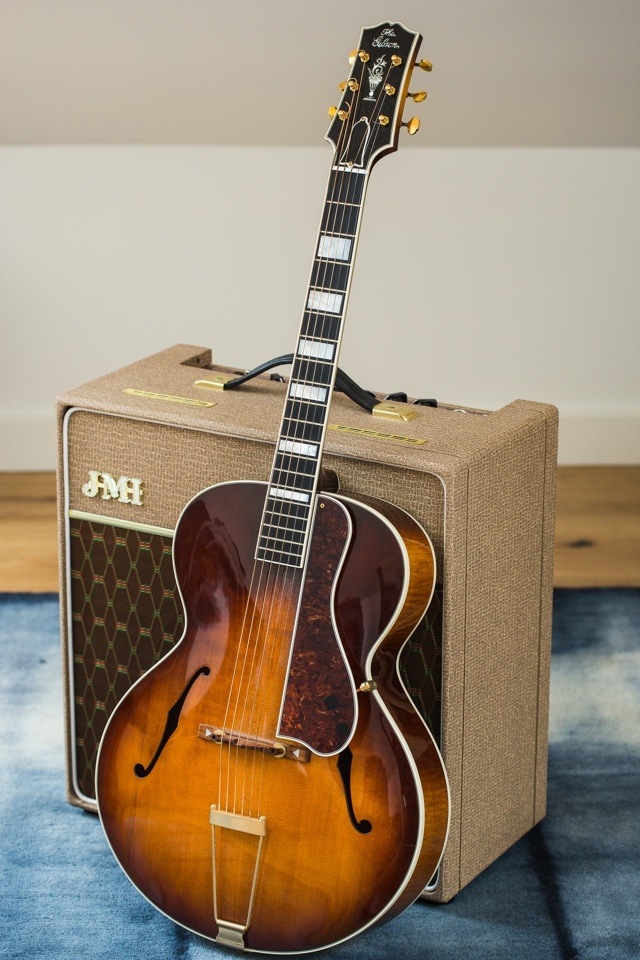 Strong, positive tone that really cuts through. Excellent for Freddie Green rhythm and single lines but also worth considering as an acoustic with a difference.
John LeVoi handmade gypsy guitar
I've used this instrument on hundreds of 1930's swing gigs all around the world including such historic occasions as the handover ceremony in Hong Kong in 1997 and the Queen Mother's 100th Birthday party at Windsor Castle. Obviously, ideal for any Django-style playing but another alternative to the flat top acoustic sound. Lighter and brighter than the archtop.

Doing my best impression of a Dobro, before I owned one! This was achieved by recording with the guitar's pickup as well as a mic and blending to taste!
Dobro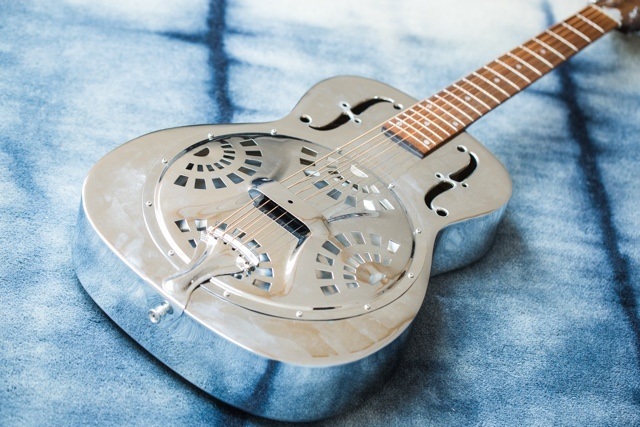 The Dobro resonator is an iconic instrument for bluegrass and blues. This instrument is set up with a high action for slide work.
Misc Acoustic Instruments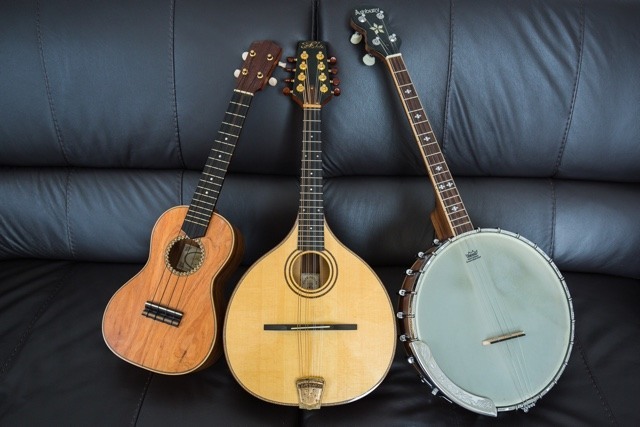 This sweet sounding little uke has paid for itself many times over! The mandolin is a Fylde Signature Touchstone featuring a rosewood body for greater power and tonal range. The Ashbury short scale tenor banjo is equipped with a tone ring giving it a richer sound.

Banjo and tracked Taylor acoustics
Strats and Teles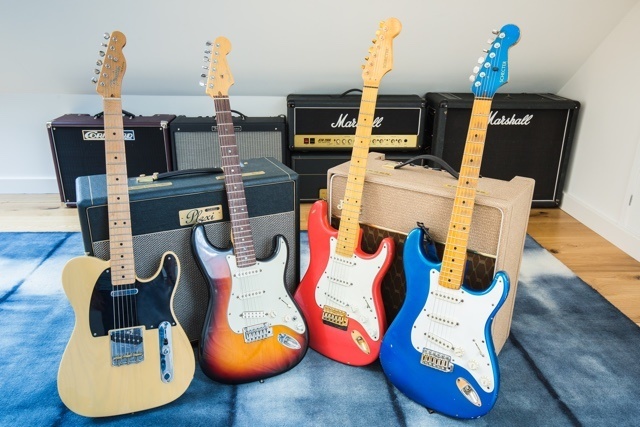 Fender Telecaster with Bare Knuckle 'Black Guard' pickups
Fender Strat with Seymour Duncan JB hum bucker and Fishman Powerbridge
Schecter Strat with Bare Knuckle 'Apache' pickups
Schecter Strat with Lindy Fralin vintage pickups

Tele playing "Who Are You" for Chris Holland album, recorded at John Hiseman's studio.

1:34s Tele playing my tune "Siren Song" going through my hand-wired Marshall head at full volume.

1:59s Fender Strat Deluxe playing "Living Tree" with Dame Shirley Bassey on ITV. Not great audio quality but you get the idea!

2:51s Blue Schecter Strat on my song "Will I Ever See You Again?" going through my Cornford Hurricane at full volume.

3:47s Blue Schecter on my song "Reason's Demise" through my Cornell Voyager. The white noise effect was created with the same guitar and an analogue delay pedal.
Specialised Electrics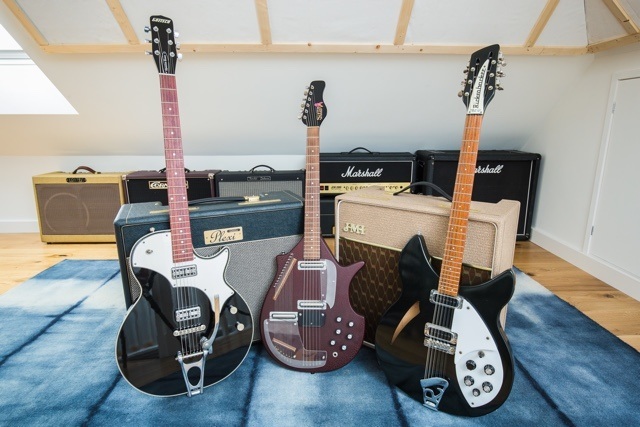 This Gretsch Spectra Sonic baritone is featured on recent "Thomas The Tank Engine" songs and incidental music. It's tuned a 4th lower than a conventional guitar.
The Jerry Jones Sitar guitar comes with resonant strings that can be tuned however you wish or simply as a solo instrument to bring an exotic Eastern flavour! I used this one while playing "You Are Everything" with Russell Thompkins (The Stylistics) and "Band Of Gold" with Freda Payne.
The Rickenbacker 330 12-string is ideal for that jangley 1960s Beatles/Byrds sound.

Rickenbacker 330 12 string on "Anna" featuring Mick Hucknall for the documentary "12 Hours To Please Me" recorded at Abbey Road, to celebrate the 50th anniversary of the Beatles first album.

0:34 Gretsch baritone used on a Thomas The Tank Engine song
Semi-acoustics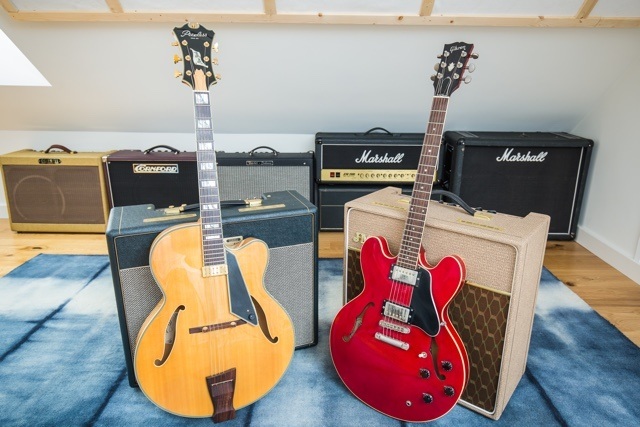 The Peerless semi-acoustic is reminiscent of the D'Angelico New Yorker. I fitted a hand wound Kent Armstrong mini humbucker pickup to improve the tone. I've owned the Gibson 335 since 1988 and its one of my most gigged instruments.

335 on a track for Steve Hamilton at Honey Music

0:46s 335 playing "Twist and Shout" featuring Beverley Knight for the documentary "12 Hours To Please Me" recorded at Abbey Road, celebrating the 50th anniversary of the recording of the first Beatles album.
Les Pauls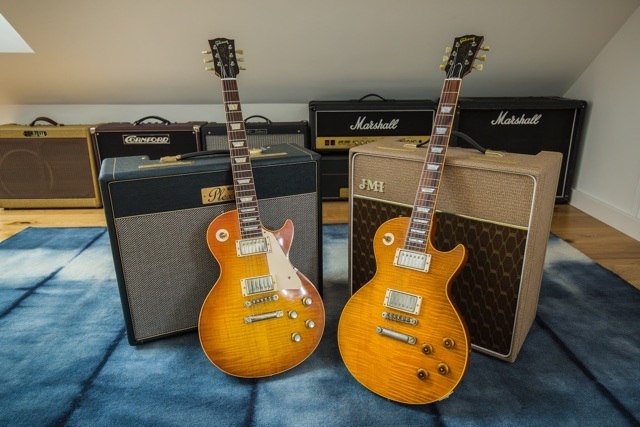 Gibson Custom Shop 1960 and 1958 Les Paul standards. Beautiful flame tops, beautiful rich tone!

Gibson Les Paul '58 Custom Shop reissue playing "Dancing On The Ceiling" with Lionel Richie at the Prince's Trust Concert 2006.

1:33s solo

1:53s '60 Custom Shop reissue on my song "I Can Make A Woman Of You" through my Cornford Hurricane.

3:22s '60 Les Paul on my song "Pleasure and Pain" through my Marshall.
Doubleneck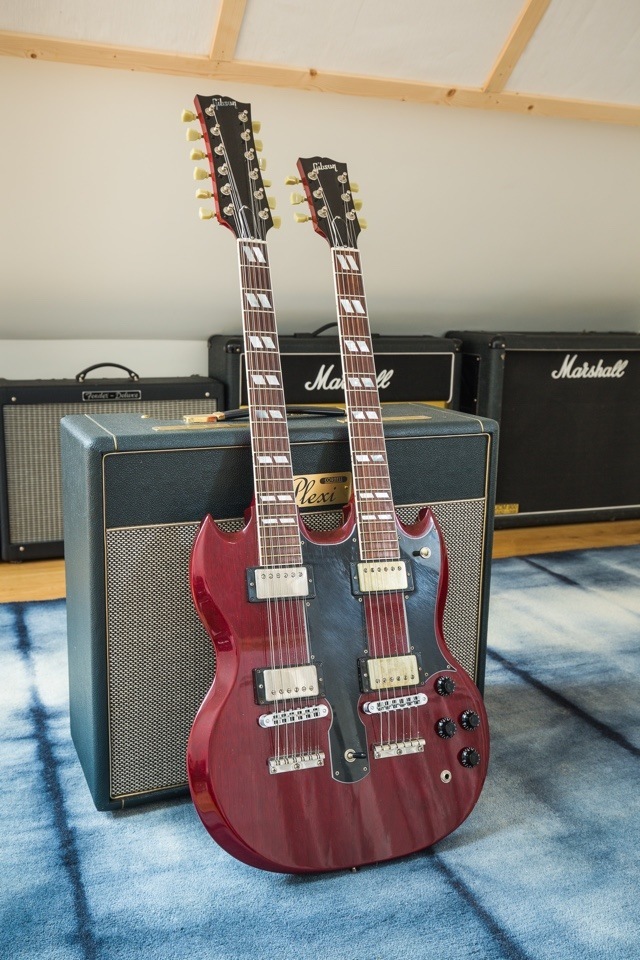 Not much call for a double neck in the studio but it does give me an alternative electric 12 string sound and a 6 string SG!
Signature elecs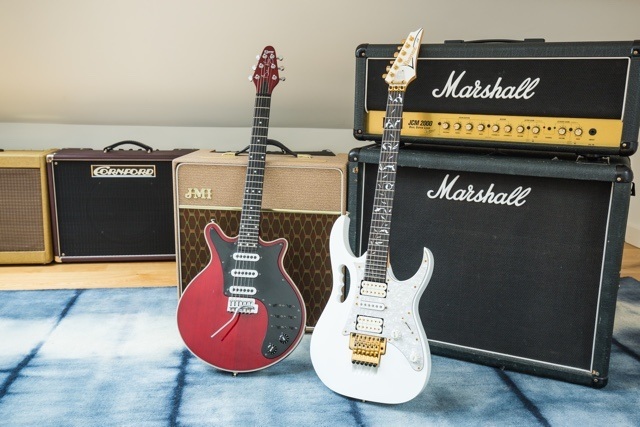 I bought the Burns Red Special when I was invited by Brian May to be first dep for both guitar chairs on the London production of "We Will Rock You". My JMI AC15 cranked to the max, with a treble booster pedal and a sixpence completes the set up. This instrument can offer many different sounds and there's no reason why it should be restricted to doing impressions of Brian.
The Steve Vai Jem was purchased at the beginning of a Vanessa Mae World tour back in '98 because I thought it would match her white electric violin. Its worth having at least one guitar with a locking trem in the arsenal.